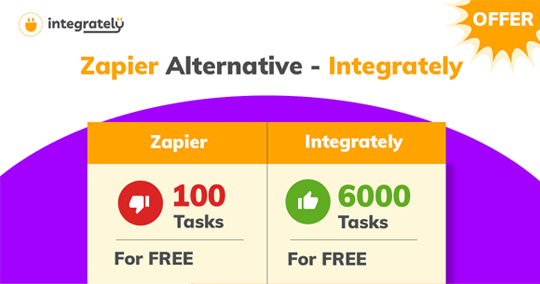 Are you looking for a free Zapier Alternative? Then, you are at the right palce.
Integrately Free deal is for you.
What is Integrately?
Integrately is an easy to use Automation software that helps you to Integrate your apps in 1 click.
It is the highest-rated Integration platform on G2 based on 500+ reviews.
You can search from 2,00,000+ Fully Ready Integrations, and activate them in 1 click without any learning curve.
Integrately Features :
Integrately – Free Zapier Alternative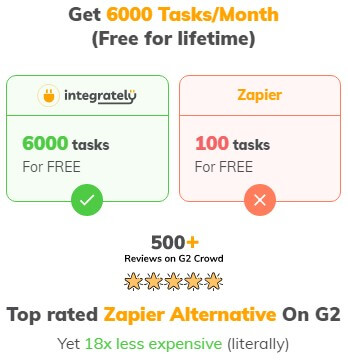 Integrately Free – Win $1000
Get Upto 6000 tasks/month free for a lifetime.
Get a Chance to Win $1000.
10 Lucky winners get $50 each.
What are Integrately Free Offers?


For a limited time, you can get access to Integrately Lifetime Free Plan of 500 Tasks / Month.
Wait, Not just 500 tasks/month
You can Get Up to 6000 tasks/month free for a Lifetime by inviting your friends to Integrately.
For every referral, you and your friends both get 500 tasks.
By referring to 12 friends, you can get 6,000 tasks/month for a lifetime.
Top Referrers of February get
Top 1 – $1000
Top 2 – $500
Top 3 – $300
Top 4 to Top 10 – $100
Top 11 to Top 20 – $50
10 Lucky Winners those who give more than 12 referrals, get $50 each.
Update: Refer 50+ in Feb and get Integrately Professional License Free for a year.
In this February, Integrately is giving away rewards Up to $2900
The top referrer of February wins $1000 and other top referrers win as shown in the table above
Worried about referring more people to win rewards?
Then just refer 13 people and get 6,000 tasks/month for Free.
If luck favours you, then you can even win $50.( 10 Winners will be Selected )
The Only thing I want to say, "Grab this Integrately Freebie Now"
Whether you use it or not, It can be helpful for you in future for sure.
Want More Freebies ?
Share it with your friends, and help them grab more freebies like you 🙂